Thomas Alkier – Drums. Professor Thomas Alkier is one of Europe's most sought after drummers. He was born 1965 in Germany. At the age of 11 he began to play the drums. From 1983 – 1987 he studied music in Cologne. Since then he has been teaching at the Folkwang University in Essen, which is the most renowned University for music in Germany. Throughout his career he has toured Canada, USA, New Zealand, China, Japan, India, Pakistan, Israel, several African countries and all over Europe with many musicians: Dizzy Gillespie, Charlie Mariano, Albert Mangelsdorff, Jerry Bergonzi, Betty Carter, Klaus König, Christof Lauer, Michel Petrucciani, Markus Stockhausen, Nigel Kennedy, Vienna Art Orchestra, Giacomo Aula, Jocelyn B. Smith, Nighthawks, Carla Bley, Steve Swallow, to name but a few.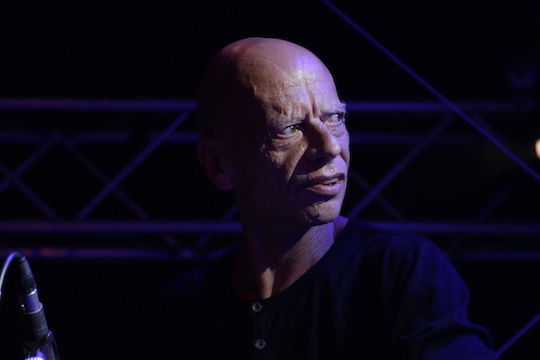 Jürgen Dahmen – Piano, percussion, pianist, multi-instrumentalist, composer for more than 30 years, been a musician. Productions and tours with Temptations, Nighthawks, Trancegroove, Goldman, Propaganda, Georg Danzer … He accompanied for 10 years at the Harald Schmidt Show (a german late night show), including 1 1/2 years as musical director, many singers. For example: Brian Ferry, Grace Jones, Nina Hagen, Willie Deville, Meat Loaf … He also served as MD at the tv-castingshow "Popstars" – Season "Bands On Stage" (2007). Concerts and radio-productions with Albert Mangelsdorff, Sam Rivers, Emil Mangelsdorff, Michal Urbaniak, "Big" Fletchit Campbell … Dahmen composed numerous movie – and television – music. http://juergendahmen.com/
Jörg Lehnardt – Guitar. The guitarist Jörg Lehnardt left his hometown Solingen to work and study in the Netherlands. He played and recorded with Han Bennink, Bots, Michiel Braam, Hans Dulfer, Paul van Kemenade and First Move. His own band Blowbeat was chosen best european live-act by the dutch music- magazine " Oor ". Back in Germany, Lehnardt enjoyed working with Dewa19, Hinrich Franck, Billy Bang, Kazda, Ali Askin, Kumo, Richard Elliot, Nighthawks and many others. Guitar Teacher at the Music College, Cologne.